About Doctor
Dr. Sanjay Kumar Biswas is an excellent gynecological surgeon from the very beginning. Having done 10,000 plus successful surgeries, his expertise needs no introduction. He is now referred by other doctors and surgeons from different parts of the country to do very difficult surgeries.

His latest feather in the hat is a Total laparoscopic hysterectomy of a 3.19 kg uterus at RUBY GENERAL HOSPITAL in 2015.

Dr. Sanjay Kumar Biswas completed his schooling from South Point High School & earned his bachelor degree in medicine from CNMC&H in 1995. He passed DGO in 2000, and achieved Masters in Gynae & Obst MD (Gynae) in 2003, He received Dr. Saswato kamal Chowdhury award for the 1st rank in MD (Gynae) entrance examination.

He was trained in laparoscopy from Endoscopic Research Institute followed by development of finer techniques and advanced laparoscopic skills from BEAMS MUMBAI who gave Fellowship In Advanced Gynecological Endoscopic Surgery.

He is a Member of most prestigious American Association of Gynecologic Laparoscopists (AAGL) USA and now selected as the review committee member of AAGL 2015, Las Vegas Nevada.

He received the prestigious Membership of American Congress of Obstetricians & Gynecologist MACOG (USA) in 2016.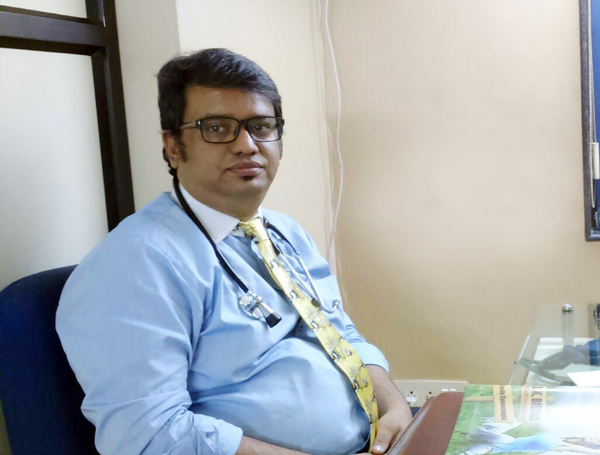 Hospital Attached:
• Ruby General Hospital
• Woodlands Hospital
• Bhagirathi Neotia Hospital
• Institute of Human Reproduction
• R.N.Tagore
• Vision Care Hospital
• Genesis Hospital
• Good Health Nursing Home (Director)
He runs a how to perform Hysterectomy training course where he has trained more than 50 junior Gynecologists. He is a senior consultant Gynecologist and operating surgeon at :

1) RUBY GENERAL HOSPITAL
2) R N TAGORE HOSPITAL
3) BHAGIRATH NEOTIA WOMAN & CHILED CARE CENTER
4) WOODLANDS HOSPITAL
5) BELEVUE CLINIC
6) GENESIS HOSPITAL

He is a Fertility Improving Surgeon at NOVA PULSE IVF CLINIC (A CHAIN OF NOVA IVI SPAIN) & IHR(Institute Of Human Reproduction.

He is the Director of his own set up GOOD HEALTH NURSING HOME, where all kinds of Gynecological and Endoscopic procedures are done at very affordable rates. If you have any problem regarding INFERTILITY, FIBROIDS RECURRENT MISCARRIAGE, MENSTRUAL BLEEDING PROBLEMS, URINARY PROBLEMS LIKE burning or inability to hold URINE, MENOPUSAL SYMPTOMS, something bulging through your VAGINA, PROBLEMS OF POLYCYSTIC OVARIES OR OVARIAN CYSTS you can immediately contact Dr. Sanjay Kumar Biswas for prompt solution.
Academic Qualifications:
1) (Gynae & Obst) from Calcutta National Medical College & Hospital (CNMC & H). Passed in 2003
2) DGO from CNMC&H Passed in 2000
3) MBBS from CNMC&H Passed in 1995
4) Membership from American Academy of Gynecologic Laparoscopists in 2015
5) Membership from American Congress Of Obstetricians and Gynecologists.
Training:
1) Extensive Training in all fields of Gynecological and Obstetrical Surgeries during the period of post graduate Training at CNMC & H from 1998 to 2003

2) Trained in Laparoscopy and Hysteroscopy from Endoscopy Research Institute in 2003. Trained in Advanced laparoscopy from BEAMS MUMBAI.

3) Fellowship in Advanced Endoscopic Surgery from BEAMS. Trained in Several infertility procedures specially IUI (Intra uterine insemination) from I V F Research Centre Kolkata in 2006.

4) Member American Academy of Gynecologic Laparoscopists.

5) Member American Congress Of Obstetricians and Gynecologists.
Awards:
1) Recipient of Dr. Saswato Kamal Sharma Chowdhury Scholarship from 2000 to 2003 for the 1st rank in MD (Gynae) Entrace Examination in 2000.

2) Selected as the Best Speaker in BOGS Conference in Short paper session.
Present Attachment:
Prestigious attachment as a review committee member of AAGL (USA) conference held at Nevada Las Vegas in 2015.


Visiting Consultant Gynecologist at
1) Ruby General Hospital
2) RN Tagore Hospital
3) Genesis Hospital
4) IHR
Operating Surgeon at
1) Woodlands Hospital
2) Bhagirathi Neotia Hospital
3) Vision Care Hospital
4) Bellevue Clinic
5) Nova Pulse IVF
6) Good Health Nursing Home(Director)
He is now training himself extesively in all aspects of gynecological cancer surgeries and perform quality laparoscopic oncosurgery which is a challenge to any surgeon.